A presentation given to the National Academy of Design
January 16, 2004
by Marilyn G. Karmason, M.D.
Click on pictures to enlarge!
Updated: June 30, 2009
Section 9: The New Millennium
And finally, what is the meaning of Chapter 13's title of our second book, "Majolica in the Millennium?" Joan Jones put it well: "Majolica was .a powerful ceramic. In some eyes it was grotesque, in others beautiful. It has never failed to evoke a passionate reaction, whether enthusiasm or revulsion to its boldness."
Here are some indications of the interest in Majolica in the end of the last and the beginning of this millennium. In 1997 auction houses in the United States and Great Britain greatly increased their involvement with Victorian majolica. Sotheby's conducted its first auction devoted exclusively to majolica in New York in March 1997. Christie's followed and was the first to offer lectures on Majolica to interested collectors. In January 2001, Sotheby's hosted a symposium on the notable Harriman Judd Collection that included museum-quality majolica examples. That symposium featured two prominent British speakers — Peter Rose, retired professor of decorative arts at Brighton University and Paul Atterbury, noted ceramics historian, author and curator of the V and A Museum's exhibition, "The Victorian Vision".
Books on majolica have also increased. After Harry Abrams published our book, Victoria Bergesen and Nicholas Dawes soon followed.  16thcentury Bernard Palissy and Palissy wares were written by Marshall Katz and Robert Lehr, and published in American and French magazines. Jim and Vivian Karsnit raised a tall spire of Oyster Plates.  Joseph Horowitz pictured majolica figural humidors, Helen Cunningham described majolica figurals, D. Michael Murray favored European majolica. Robert Cluett authored George Jones ceramics and is onto another epic, T.C. Brown-Westhead, Moore & Co. Richard Dennis, a noted British Publisher and speaker in majolica is also a Majolica collector, as evidenced by this collection of  Majolica teapots  in his home.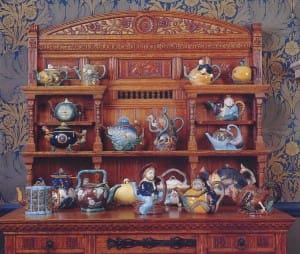 Majolica values have been enhanced by television programs such as the Antiques Roadshow, the Incurable Collector, and the antiques Web sites on the Internet. 450 majolica collectors have enjoyed the Majolica International Society, founded by Michael Strawser in 1989, in Indiana. He's run his 26th Majolica auction this past year.
What else may we expect during the Majolica Millennium?  Professor and MIS member Peter Rose wrote the following: "Majolica's great strength is in its popularity".  He sees Majolica taking its place as a full partner with the more traditional potteries such as Meissen and Stoneware.  This sounds like a very good goal for the 2000's.
And finally, here are three special pieces of majolica – a dolphin with daisy flowers decorating bowls.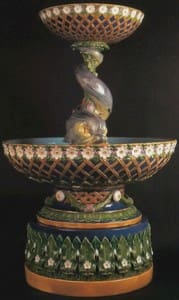 A most unusual Renaissance design with ornate cupids and the Della Robia images.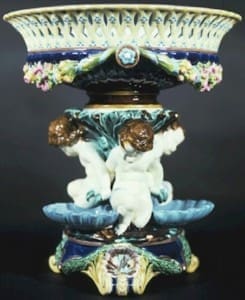 It seems appropriate to close with a tribute to Queen Victoria in whose era Majolica flourished.  This plaque created by Thomas Kirkby and exhibited in 1855 and now resides in our living room.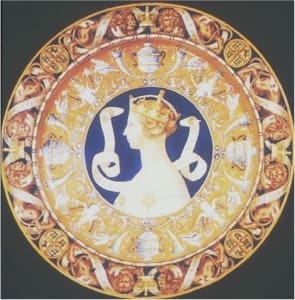 Thank you, Marilyn G. Karmason, M.D.