A presentation given to the National Academy of Design
January 16, 2004
by Marilyn G. Karmason, M.D.
Click on pictures to enlarge!
Updated: June 30, 2009
In 1793, Thomas Minton, the 28-year old founder of Minton & Co.,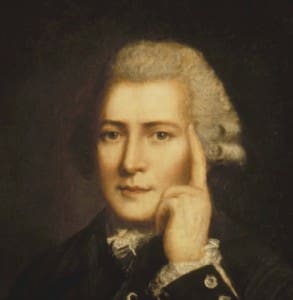 Introduced elegant bone china to Stoke on Trent, England.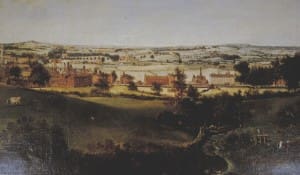 Thomas Minton died in 1836. His 44 yr. old son, Herbert raised production to greater heights. In 1848, Minton traveled to France and met Leon Arnaux, a gifted French ceramic art director, engineer and chief chemist. With his talents & because of political upheaval from the 1848 Revolution, Arnaux came to Stoke on Trent and produced outstanding earthenware ceramics and beautiful glazes.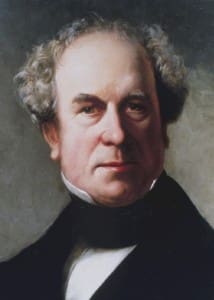 About that time, Prince Albert & Henry Cole, a member of the Royal Society of Arts, organized an international exhibition in England, with "works of human skill of all civilized nations". With Joseph Paxton, they created the "Great Exhibition of the Works of Industry of All Nations", known colloquially as London's Crystal Palace, the symbol of Victorian England.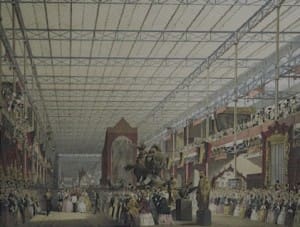 Here are the first pieces of Majolica displayed at the exhibition. The 1851 catalog described Minton's exhibition to be "some excellent FLOWER-VASES, colored after the style of the old Majolica."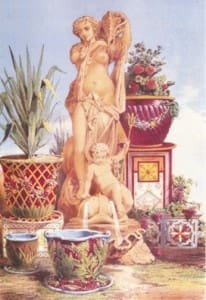 After 1851, other international exhibitions displayed Minton majolica: the most exciting were the London 1862, with the great St. George and the Dragon fountains measuring 36' high and 39' wide, and the 1876 Philadelphia Centennial, where elegant English majolica was next to new American majolica.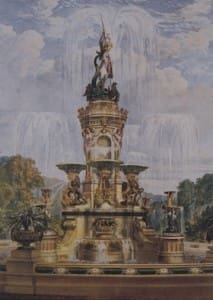 There was an 1878 Paris exhibition, presenting  the largest majolica fountain.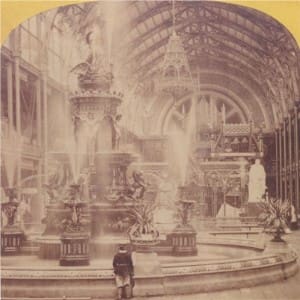 At the 1889 Paris exhibition, a 7-foot high pair of Minton elephants were larger than life-size. The elephants are still at the window of the elegant Thomas Goode shop in London.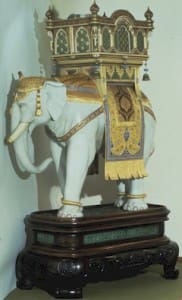 Herbert Minton died in 1858, succeeded by nephews Michael Hollins and Colin Minton Campbell. We'll deal now with different Minton shapes, Renaissance styles were the earliest and most dramatic of Minton majolica. Some of the most interesting pieces were heavily modeled as monkey garden seats.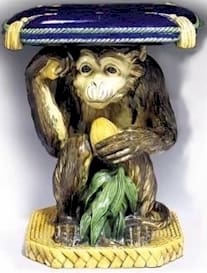 And magnolia garden seats.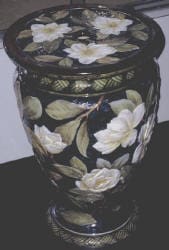 Mythological figures such as satyrs,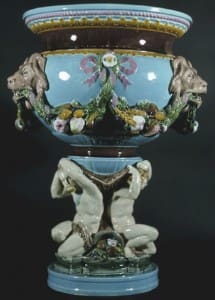 And tritons,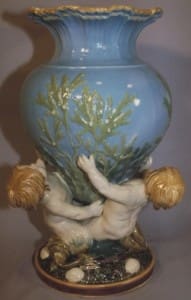 Putti and rams on a huge vase of great charm. They include designs based on the Renaissance of Della Robbia, with garlands and festoons of flowers and fruits.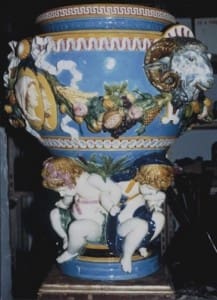 Here is a tall Renaissance jardinière with three Renaissance maidens and a Della Robbia wreath circling the top.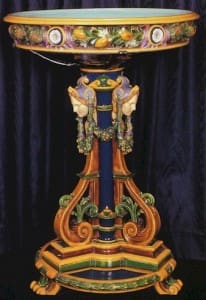 Now a 1867 Prometheus vase of a scene of warriors and homes, soldiers chained to the vase handles, and the liver of Prometheus attacked by an eagle.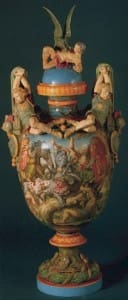 Here is an 1871 18" high, pedestal cachepot decorated with classical Victorian female heads, the upper rim trimmed with a Greek key motif.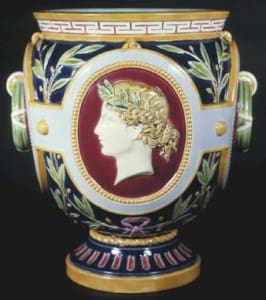 The last is an unusual jardinière with a wreath of pond lilies encircling the bowl. The bowl is held above three egrets surrounded by cherubic "melusines".  Melusines have the unusual double form of the more familiar single-tailed mermaid.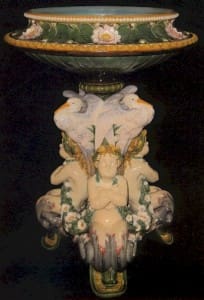 Next are Palissy pieces, 19thcentury styles from 16thcentury Bernard Palissy with marine-life motifs. Palissy was French, 1510-1599. He produced natural 16th century figurals such as this Tulipiere as well as sea objects.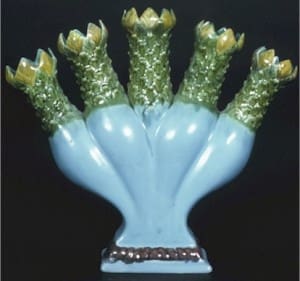 And a Palissy ewer of 1868 together with its plate.  In 1982, David McFadden, then curator of the N.Y. Cooper-Hewitt Museum of the Smithsonian Institute, chose to present the very first Majolica Exhibition in the United States.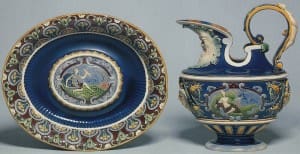 He had the Minton Palissy ewerdrawn on to a huge poster, as shown here, the first museum symbol of majolica.  Both the 16th C. Palissy set and the 19th Century Minton set have lived on in the Victoria and Albert Museum, and both are perfect!