A presentation given to the National Academy of Design
January 16, 2004
by Marilyn G. Karmason, M.D.
Click on pictures to enlarge!
Updated: June 30, 2009
At Choisy-le-Roi, the life-sized Hen and Rooster were by Paul Comolera.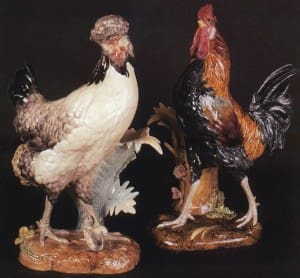 Here is a 19th Century Palissy fish platter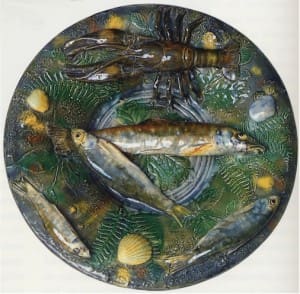 Followed by six Continental Asparagus cradles.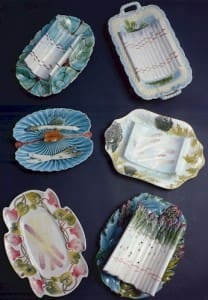 And also an asparagus server and basket, c. 1890 from LuneviIle, France.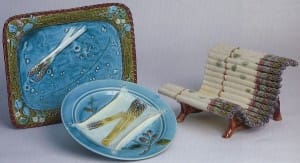 Georges Drevfus made oil and vinegar bottles to contain Smiling Oil and Crying Vinegar.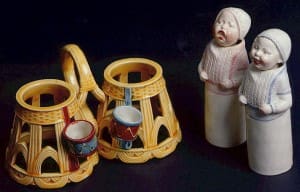 Here is the Hugo Lonitz German compote in which 3 putti sit beneath the compote, very much like Wedgwood majolica.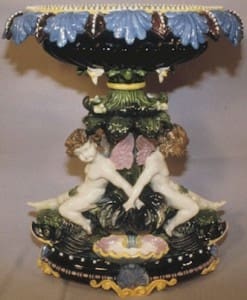 In Portugal,  Mafra and Son, c. 1889, created a chocolate pot, tea pot and coffee pot with snake handles. The full tea set is green, leafy and fantastic.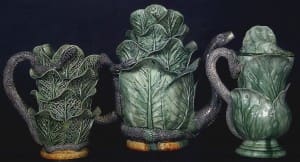 The Massier family in Vallauris, France, represented a link between Victorian & Art Nouveau majolica. Here is a Well With Birds by Delphin Massier.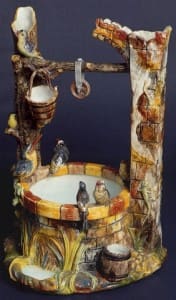 An amusing Dreyfus egg-cup tray was modeled as a large swan, with six egg holders shaped as chickens.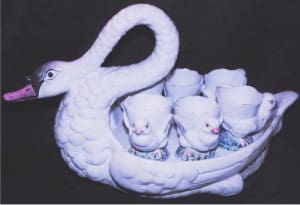 The 28" Royal Dux Bohemian umbrella stand made us laugh, as we note a composite bright summer flower and a Thanksgiving bird.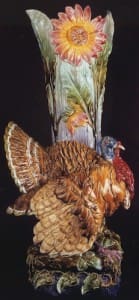 Here, c. 1880, is a somewhat rowdy avian gentleman, seriously bespectacled, his German frock coat fashioned of green feathers; his beak-spouted liqueur bottle is hatched tight.

A foot-long grasshopper by Jerome Massier, well-known in his hometown of Vallauris, (c.1890), represented naturalistic majolica.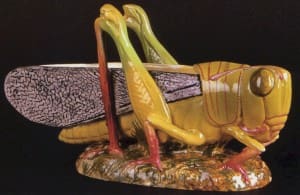 Here is a monumental Art Nouveau winged lady at her dresser mirror, and she's ready to fly.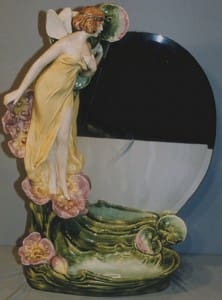 With this George Jones pair of Moonflasks, each shows a beautiful young woman, one portraying love and the other, self-love. The flasks have no marks, but a moon flask of similar shape and imagery is marked "George Jones" in Llewellynn Jewitt's 1883 book, 'The Ceramic Art of Great Britain.'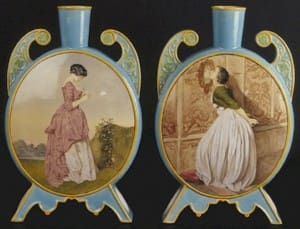 Here are French Palissy figurals together with a 17" candlestick, a mussel or oyster plate, and a creamer of 5".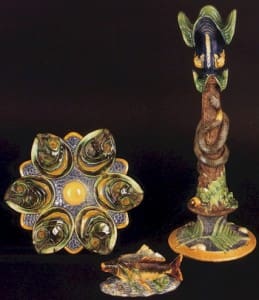 There are Portuguese Palissy pieces, somewhat different from the Thomas-Victor Sergent ink Stand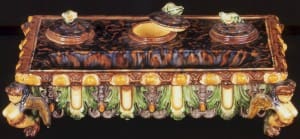 And plates with fish and clams from Caldas Da Rainha, Portugal