A presentation given to the National Academy of Design
January 16, 2004
by Marilyn G. Karmason, M.D.
Click on pictures to enlarge!
Updated: June 30, 2009
Section 6: Other English Manufactures
Later English majolica is also interesting; Pieces imitate and others are more original. To compete with the established potters, Thomas Forester & Sons (and later, Samuel Lear) placed ads in the Pottery Gazette. Forester produced gurgling fish pitchers.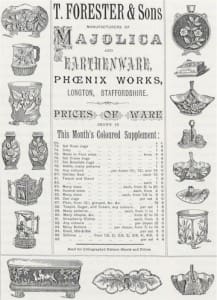 And a lovely cobalt cheese bells.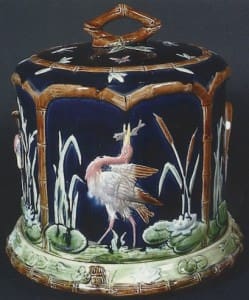 Similar to French majolica, baskets were "a Ia Barbotin,", with raised flowers made of slip.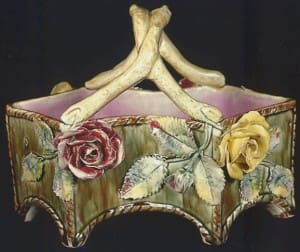 Forester made sanded-majolica with both sand & slip such as this bowl.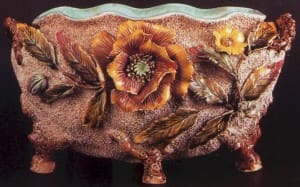 Here is Forester's garden seat of wheat, corn and grasses.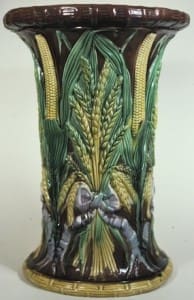 Lear – pieces include a large pitcher with blue, yellow, green, red & white glazes; there is a tea-pot, sugar, creamer, plate and butter dish.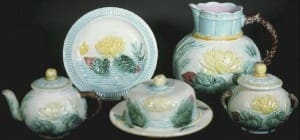 The pitcher and  cheese bell have their own design.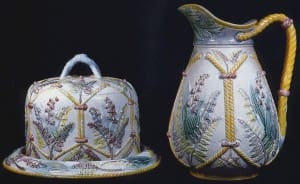 Simon Fielding began in 1878, with naturalistic designs & textured backgrounds, and styles of Bow and Floral, Shell and Net, etc.  Here's a Fan and Scroll tea set.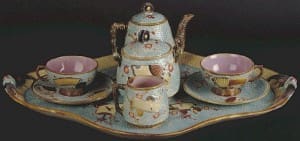 And an umbrella stand,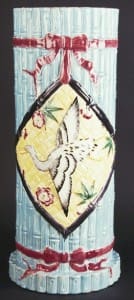 And a pitcher features a child poet.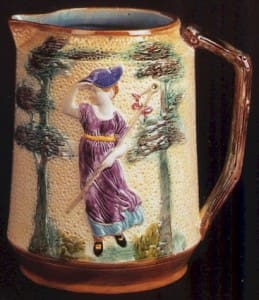 There is also an Oriental-style Fielding oyster plate.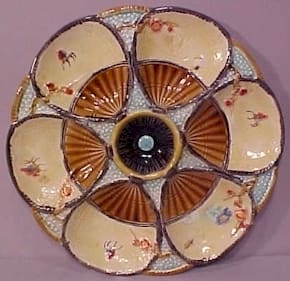 And a bowl and butter dish.

Worcester and Copeland produced good porcelain and great majolica. Worcester had a sharp mouth-pouring pitcher.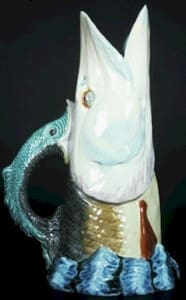 These shells that resemble Minton nautilus shells, are, in reality, really Worcester's creation.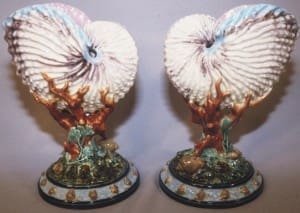 Copeland created a tri-corner vase with bold eagles made for the 1876 Philadelphia Centennial. Three shields spelled out Independence, Centennial Memorial, and George Washington, Father of Our Country.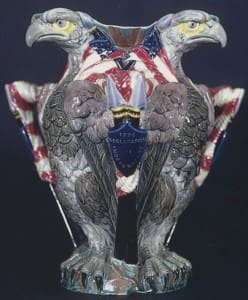 This early Copeland pitcher is also an example of his work with two fishermen.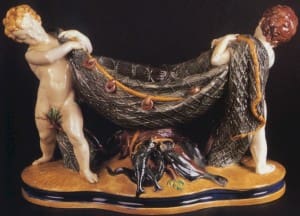 There is also an elegant Copeland pitcher, albeit early He also designed three sized pitchers in the Egyptian Lotus pattern of 1877.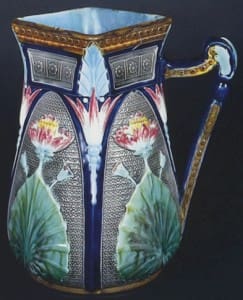 T.C. Brown-Westhead, Moore produced excellent majolica in the l870's and 80's. The V&A Museum has this Brown­-Westhead pitcher of sun-ripened grapes.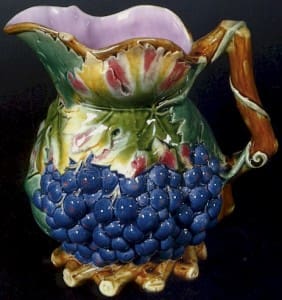 And 22" high garden seat portraying an Egyptian slave girl with palm fronds, lotus blossoms, cobras and an owl.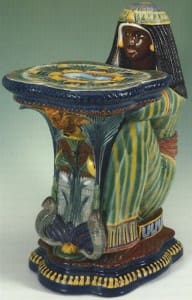 The English poet, Wil1iam Wordsworth wrote a 2000-line poem, "Doe of Ryland", about the sadness of a Catholic-Scottish daughter whose entire family was killed by soldiers of the Anglican-English queen. The poetry's sadness remains to the end, and the girl dies quietly, close to her "Doe of Ryland", a creation attributed to Brown-Westhead.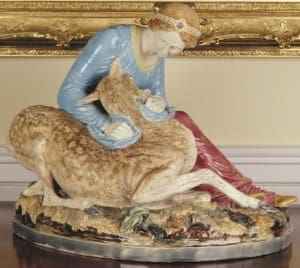 Brown-Westhead regal Tiger.