A presentation given to the National Academy of Design
January 16, 2004
by Marilyn G. Karmason, M.D.
Click on pictures to enlarge!
Updated: June 30, 2009
Wedgwood majolica began in 1860, a decade later than its esteemed rival, Minton.  Leon Arnaux, with fraternal respect for Wedgwood, helped with majolica glazes.  Here are samples of Wedgwood Naturalistic designs, including a well-designed cobalt Bird and Fan bowl.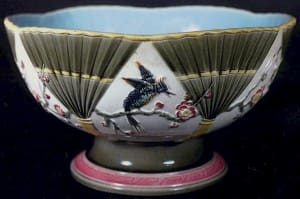 Cobalt blue turquoise and argenta fishplates and a platter were made in 1878 to gain a new market.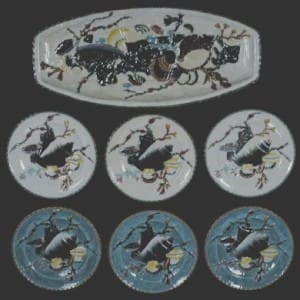 Here are two 27" salmon platters and 9' plates.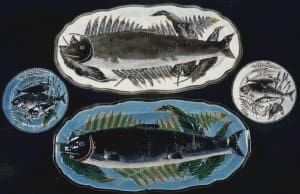 Wedgwood oyster plates made in 1878 portray several patterns.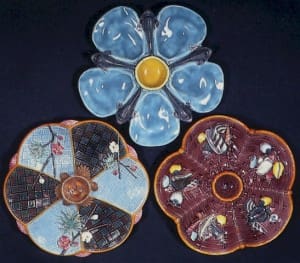 Here is a Cheese Bell of 1881, again in Bird and Fan pattern.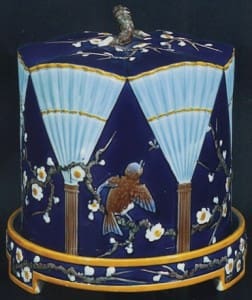 A 22" umbrella stand is decorated with an oriental motif.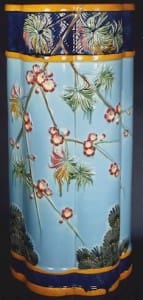 Here is an 1881 umbrella stand in the Kate Greenaway design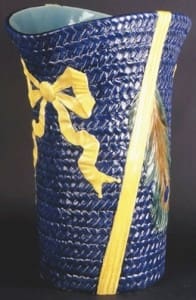 And here three women appreciating their role in a Wedgwood compote.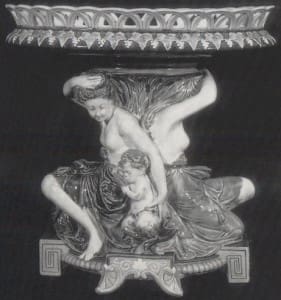 A humorous cobalt 1878 Punch and Toby bowl (one in the British Museum,) has Mr. Punch balanced by his Toby dogs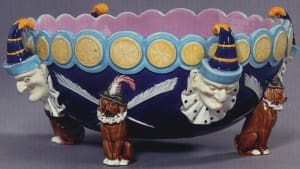 And accompanied by a small turquoise tea set with the same canine motifs.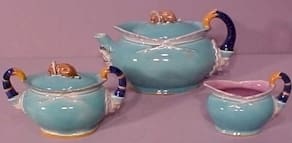 Here are magnificent and rare Wedgwood wine and water cobalt ewers.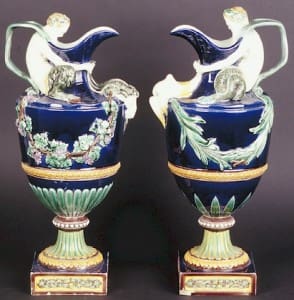 Last, three Wedgwood Swan Vases had been made by 1883; the two vases of the pattern shown on the right panel are on the first floor of the New York Metropolitan Museum. Both are 54" in height, one vase is mottled brown, the other mottled blue.  The 3rd, in the left panel, is the 56" Swan vase, 1875-76, illustrating a scene of Samson and Delilah painted by Thomas Allen, a great Minton artist.  This one is in the Art Gallery of South Australia, in Adelaide, discovered by anAustralian dealer couple in our Majolica Society.