A presentation given to the National Academy of Design
January 16, 2004
by Marilyn G. Karmason, M.D.
Click on pictures to enlarge!
Updated: June 30, 2009
 As for George Jones: he first worked at Minton's and then established his own Trent Pottery in Stoke-on-Trent. Here  is a page from recently discovered George Jones Pattern Books showing his plans for cheese bells.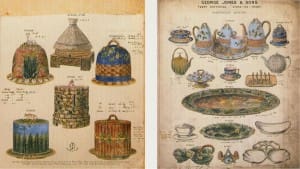 Jones' version of Majolica is quite naturalistic, as in  this serene strawberry server.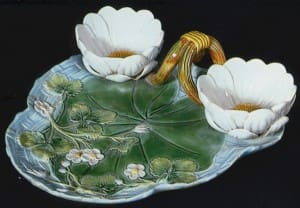 Here are two strawberry servers with more complex designs.  One from 1882

And the other with Finch birds 1873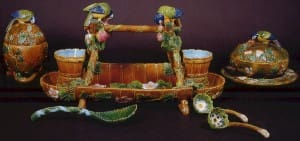 A cheese bell with bird finial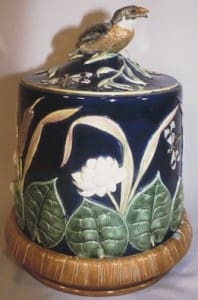 And a rare leaf design on the under plate.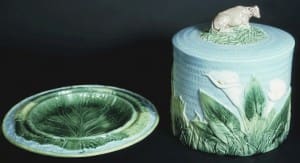 And a cheese bell with a cow finial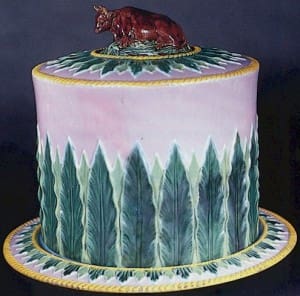 Sardine boxes with fish and shell finials,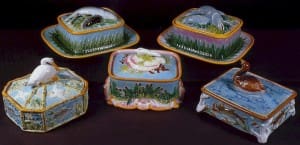 A rare game dish topped with a fox 1875.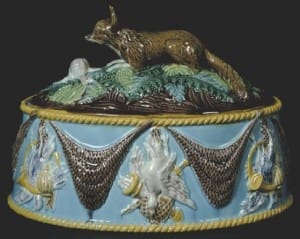 And oyster plates.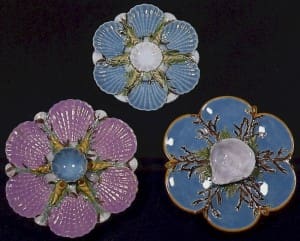 Here are two compotes with forest animals, 1867,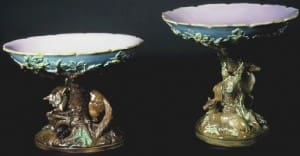 And a most unusual combination of an inkstand and cardholder, each topped with a bichon frise.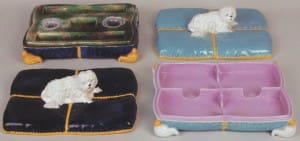 There's a tea-service for late afternoon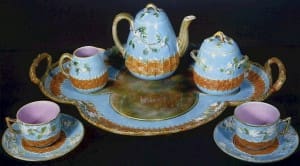 And a Chinese junk teapot.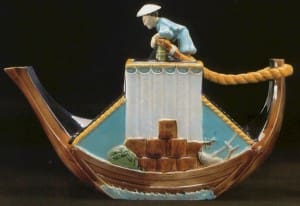 A Punch bowl comes in two sizes and multiple colors.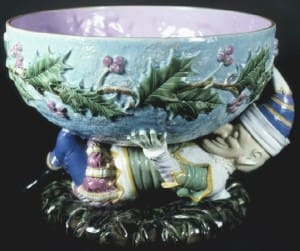 For pre­-dinner, there's a dressing set with candlesticks, beauty patch box, flowers.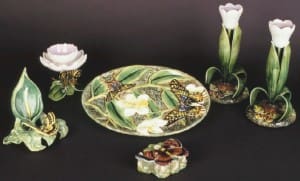 And a dressing table plate with orchids illustrated in detail.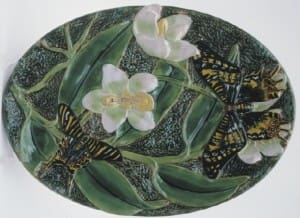 And a detail of the patch box.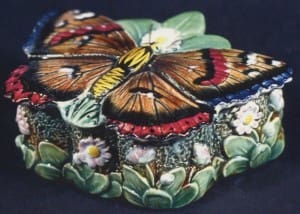 Here is another garden seat, 1875 with pond lilies and dragon flies.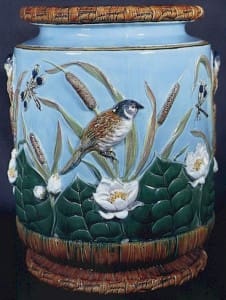 This jardinière with birds and blossoms is our Icon, the symbol chosen for our Society.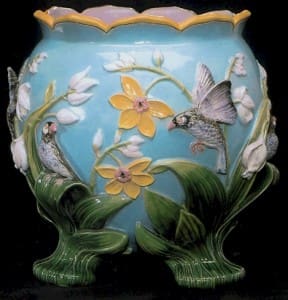 Here is a rare water-cooler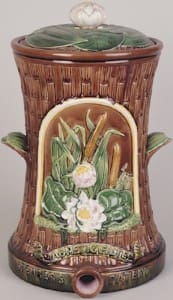 Ad finally, the game-pie dish with chicks and bunnies appears on the majolica book cover.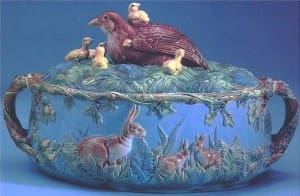 And the swans sail gracefully away.